On the occasion of the Week of Adventures, Niantic has added new items of clothing in the store of the game to get fully into the role.
The Week of Adventures has begun in Pokémon GO . Niantic, who has multiplied x4 the number of candies that we take for walking with our partner, has caused thousands of trainers to stretch their legs for hours until June 11 ; but they also want us to dress for the occasion with new adventurous attire.
As reported, the spirit of adventure must also breathe in the clothes of the Coaches and Trainers; therefore, the items we see in the images can now be purchased at the Pokémon GO Fashion Store on both iOS and Android. On the one hand, some dedicated to those who prefer to dress for forests and caves; on the other hand, those who prefer hiking in the high mountains with voluminous backpacks and comfortable shoes.

In the news we leave you with some captures we have done for our MeriEntrenador ; As you can see, prices range between 80 Pokémon and 200 Pokémon.
Reminder: this is the Week of Adventures in Pokémon GO
We remind that it is recommended to have Sincroaventura activated , since those who walk 50 km in this period will get 50,000 Star Powders and 15 Rare Candies (per week), so that they evolve to Pokémon like Gabite to a Garchomp (it can now be much easier. We got it this past Wednesday.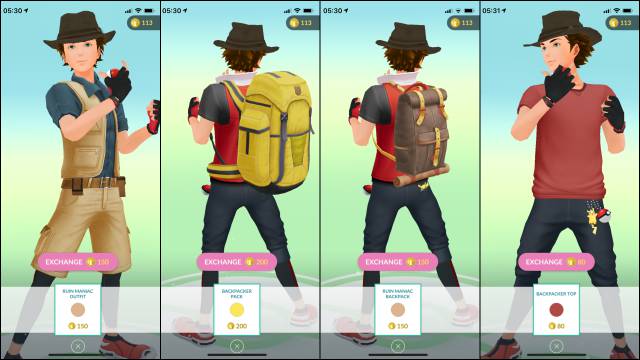 The new wild Pokémon of the Week of Adventures that will appear with more frequency are Pokémon of type Rock like Geodude, Rhyhorn, Omanyte, Aron, Lileep, Anorith and many more. Rock type Pokémon such as Onix, Larvitar, Lileep, Anorith and Shieldon will appear when Eggs of 2 km hatch. Finally, Onix and other Rock-type Pokémon will be seen in the raids . Both Onix and Lileep or Anorith variocolor may appear more likely.
In the following article we leave you some tips to take advantage of the candy bonus of the Week of Adventures .
We can not finish without remembering that we have here the second trailer of Pokémon Sword and Shield after the Nintendo Direct fifteen minutes dedicated to these deliveries, which already have a confirmed release date: November 15 .