How To Catch Detective Pikachu in Pokémon GO
How to catch Detective Pikachu; The movie event has started for a limited time around the world. We explain how to capture the most extravagant electric mouse.
The Pokémon movie event : Detective Pikachu has already started on Pokémon GO. As confirmed by Niantic, the title receives for a limited time different research tasks, wild species based on the protagonists of the film and, as master of ceremonies, Detective Pikachu. Here we explain how to catch it .
Having a Pikachu with a detective hat is something that does not happen every day. If you are one of those who yearn to use it to defend a Pokémon Gym, until next May 17 we will be able to capture all we can until we find one that has good IVs. There are several methods to run into it (never shiny / variocolor, as it has only been included in standard color).
How to get Pikachu with a detective hat in Pokémon GO
The procedure is really simple. You do not even need to leave the house, as we will use Snapshot GO mode .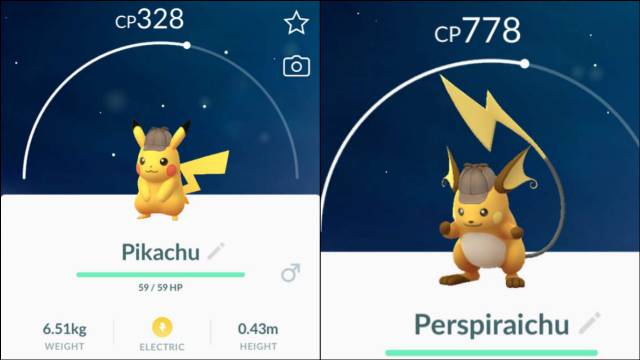 Enter the object menu and look for the camera. Open it and choose the Pokémon you want to photograph (you can also do it in reverse: select the Pokémon and then click on the camera) to enter the GO Snapshot.
Start the photo session. Get comfortable and take some catch of your Pokémon […] Already? Now check all of them until you see the one in which a Detective Pikachu with his characteristic hat peeks out. If there is no luck, try again with another Pokémon and another batch of photographs.
Exit GO Instant mode and return to the map, where you will see the Trainer in the location where you are. In a matter of seconds, you'll see Pikachu wearing a detective hat in wild form waiting for us. Touch it!
The battle begins. Do not hesitate to use the berries you have on hand to facilitate the capture and use the Poké Ball that you prefer. Good luck!
Once you have captured your Detective Pikachu, if you have enough candy you can evolve it to Raichu with a detective cap , as we have done (it's called Perspiraichu). It must be said that only one Pikachu with a detective cap will appear once a day. If you do it today, you'll have to wait until tomorrow to catch another one (until May 17, which ends the event).
The event has 4 field research tasks available to all. In this article we tell you how to complete them all. Another of the great novelties of the month is the arrival of Mesprit, Uxie and Azelf , the trio of the Lake of the Sinnoh region, to the incursions.