Guide for Torchic Community Day. The next Community Day of Pokémon GO is getting closer. On May 19, the Community Day of the fifth month of the year will be celebrated , which will have Torchic as the main protagonist . As always, for a few hours we can find a special Pokémon in the wild and an exclusive movement.
We review all the details about the impending Community Day, which will take place on May 19 around the world with a taste of the Hoenn region.
Date and details of the May Community Day in Pokémon GO
As we pointed out, the day to take into account this time is May 19 , Sunday , from 3:00 p.m. to 6:00 p.m. in local time. That is, regardless of where you are in the world, these will be the hours of Community Day celebration .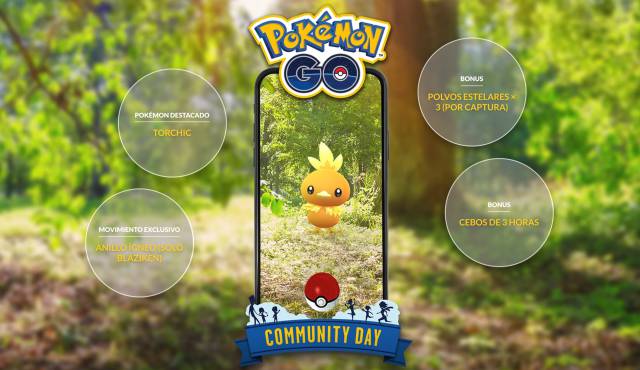 Guide for Torchic Community Day , the initial fire Pokémon of Hoenn
Niantic and The Pokémon Company have chosen Torchic as the protagonist Pokémon, the initial of type Fire of the third generation, original of Hoenn. He was the first initial to start the trend of having his final evolutionary form (Blaziken) with the Fire / Fight combination, which was repeated in the fourth and fifth generations.
During these 3 hours of Community Day, Torchic will appear wild much more frequently , in addition, the baits will also last 3 hours, a special bonus to facilitate their capture with the bonus of Stardust x3 for each capture , elementary to teach attacks facing a competitive Blaziken once evolved.
Torchic will know an exclusive movement when it evolves to Blaziken, Burnish Ring (Blast Burn).